A great gift for the next generation
that will be handed down through the ages!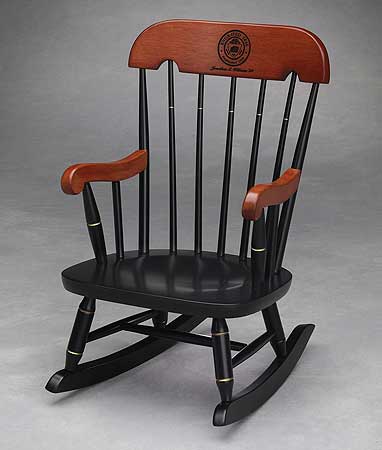 click for detailed image w/zoom-in feature
No. 725 Child's Rocker with Black Lacquered Finish
$179.00 (plus Shipping & Handling)
Handcrafted in our factory
Comfy scooped seat
Made entirely of solid maple hardwood
Black lacquered finish with gold beading and cherry arm and cherry crown
All items shipped via UPS fully assembled
Rush Delivery available!
U.S. Patent # 4,947,022
Dimensions: 21 3/4" D x 16 1/4" W x 27 1/4" H, Wt. 10 1/2 lbs.
Shipping and Handling: $35.00 (add $10.00 for Texas, Rocky Mountain and Western states)
Child's Rocker with Personalization
Personalization of your choice is available. Many people opt for the name of the child on one line and their birth date on the next. Personalization costs $19.00 for the first line and $9.00 for each additional line.
To order your rocker with the personalization of your choice, click here for an eOrder Form. If you have any questions or wish to have a seal laser engraved on the crown as well, call us 1-800-352-5885.
Child's Rocker with Custom Artwork
You can have your own artwork laser-engraved on the crowns (at an additional cost). If you'd like to have your own artwork - or a college seal - laser engraved on the crown of the chair, give us a call for pricing and availability. For college seals, if necessary, we will direct you to the person at your college bookstore or alumni association who will handle your order.
If you don't have any artwork but would like something, we can help to create an image for you. Especially family crests and coats of arms. We have designed seals for thousands of colleges and institutions. And our art department is expert at matching your needs and preferences with a broad array of design choices.
Our staff here at the factory knows all the details. Give us a call any business day at 1-800-352-5885 - we'll be happy to personally expedite your order.